Thanks to all who worked on the Soup & Sandwich event. The Blasi, Crosta and Kenney families especially did a great job in organizing, cooking (Lisa Crosta's Italian Wedding Soup and Jen Blasi's corn chowder were delicious) and serving the delicious food. Thanks to all the kids who served and waited on tables. Great job by all.
If you missed this event mark down the Mardi Gras Coffee on February 8th.
Lector Ministry Opportunity
Would you like to proclaim the Word at Mass? Contact Deacon Tom at 232-8137 or deacon.tom@verizon.net for details. A lector training workshop will be held on Saturday, February 7th from 8:45 AM to 12:45 PM at the Archdiocesan Center in Newark. Parish will pay the registration fee.
'Twas the Week Before Christmas

"A snowflake is one of the most fragile creations,
but look what they can do when they stick together!" (author unknown)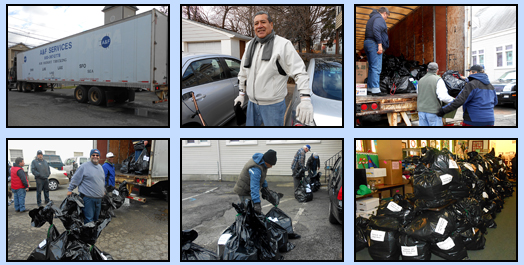 Anyone who was blessed to be amongst the workers at St. Joseph's Social Center during the week before Christmas could easily have imagined that the North Pole and Santa's workshop had been relocated to Elizabeth NJ. Everywhere you looked you saw dedicated and exceedingly merry "elves" bending in every direction to "make Christmas happen" for the hope-filled people that arrived for help.
It was a warm feeling to be in the community center and to walk among the sweet seniors and to listen to their stories as they waited patiently for their Giving Tree gifts and for bags of food that would keep their pantries stocked.
It was exhilarating to stand outside in the parking lot and watch a tractor trailer truck arrive with over 500 large bags of gifts for young families lovingly prepared by volunteers from The Giving Tree Project. A chain was formed and fueled by encouraging words and laughter as bag after bag was extracted and passed from person to person and into the church. Mature muscular men, young volunteers .... Smiling, enthusiastic boys and girls rolled up their sleeves and dove in wholeheartedly. The words of a familiar poem come to mind, "They spoke not a word, but went straight to their work!" Actually, there was a delightful and jolly exchange of laughter and conversation. Everyone was having a good time while they were arranging for the happiness of hundreds of needy families.
Each day bags were distributed and anxious hearts and hands were given what they needed to make the holiday a happy one. And so, we say thank you and extend wishes of blessing and peace to every heart and hand that contributed to the success of Christmas 2014. And, we wish blessings galore for the new year with a gentle reminder that the fate of our world is in each of our hands.

Edwina M. Gaiser-Marchev
46 Year Old Westfield Father of 4 In Need of a Kidney Transplant
Andrew Gibbs, an active member of our community and father of 4 young children, is suffering from a genetic disease which has caused the gradual loss of his kidney function. He is on the transplant list but there is a 4-5 year wait and he will likely require debilitating dialysis treatment in the near future. Living donation is the best medical option and would allow Andy to regain his health and live an active life. Donation involves testing and a minimally invasive laparoscopic procedure, with all medical expenses covered by Andy's health insurance. If anyone is interested in providing this important gift of life to Andy, they can contact his wife Sue at (908)400-3471 or call Ms. Carol Coumbis at Robert Wood Johnson University Hospital at (732)253-3699. Ms. Coumbis can answer questions regarding the testing and procedure.
Thank you for your kind consideration.
If you'd like to host a coffee in honor of someone's birthday or any special occasion or if you'd like to
BRING A BAKED GOOD, please email cmkenney1@verizon.net.
---
For a complete list of upcoming news & events, click here.
We, the parish family of the Catholic Church of the Holy Trinity, joyfully celebrate around the table of the Lord Jesus Christ the love and the beauty of our God and who we are as people on a faith journey. Conscious of our baptismal call, we proclaim God's Word, in fidelity to our tradition, to believer and non-believer alike. We seek to give prophetic witness to our faith by striving to be a servant community of welcome and hospitality, of reconciliation and forgiveness, of compassion and hope.